Spain has a rich history and a vibrant culture, which is part of the reason that so many tour companies have trips to the European country. While you could take months to plan a trip yourself, a group Spain tour is a fantastic way to see the country and leave the planning to someone else.
Many of the best Spain tours give travelers the chance to mix iconic sights like Barcelona's famous Sagrada Familia with charming coastal cities and smaller towns scattered around the county. No matter your lifestyle, fitness level, or interests, there's a tour to Spain that will fit your needs.
10 Great Spain Tours for 2023 and 2024
These 10 great Spain tours offer many highlights in a few days. The best part about tours like these is that accommodations, transportation, activities (some which would be difficult or impossible to arrange on your own), and many meals are sorted out with careful attention to detail from local guides, so all you have to do is show up and enjoy your vacation.
1. Trafalgar Northern Spain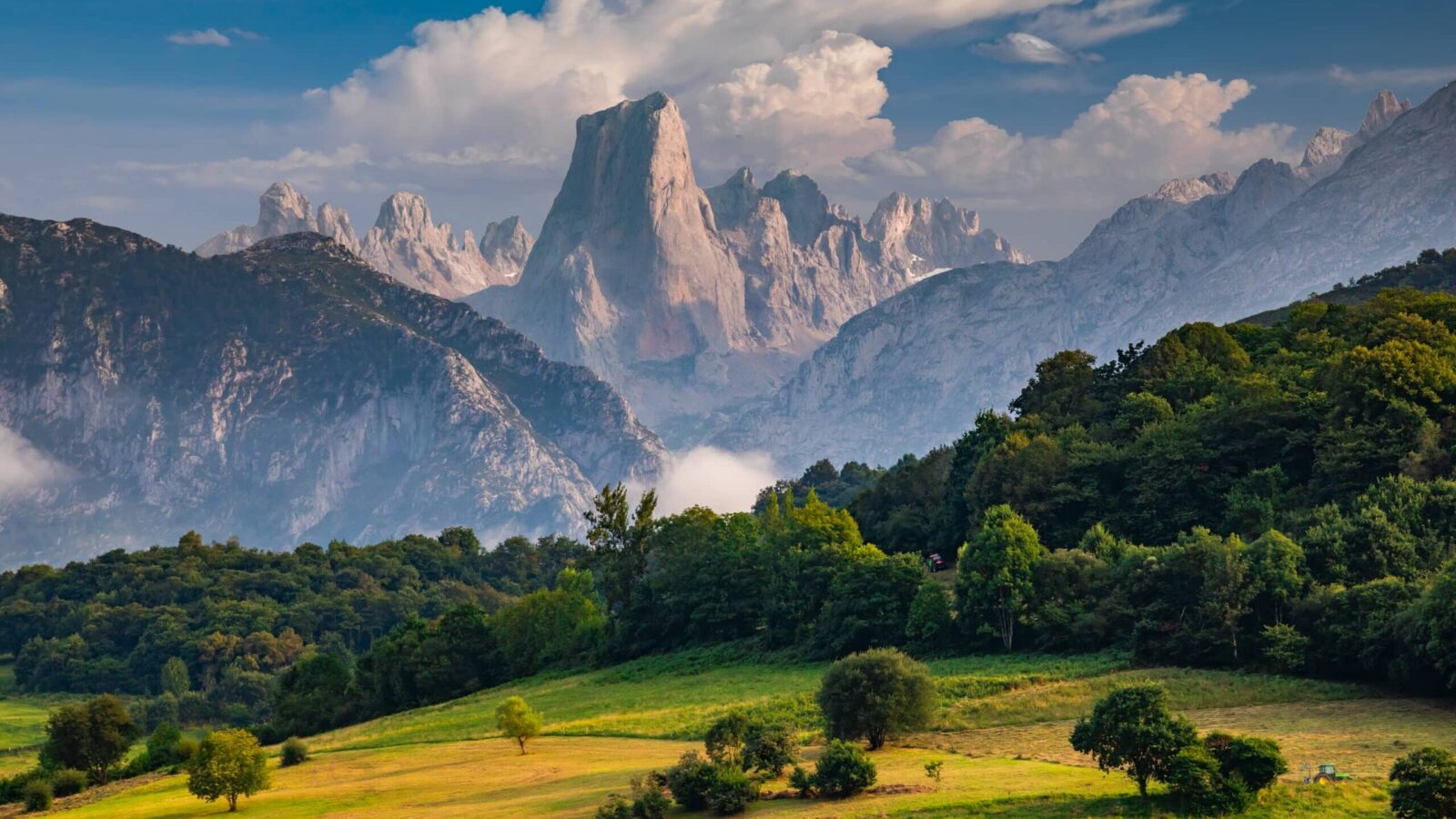 Trafalgar's Northern Spain tour takes travelers from Barcelona to Madrid over 11 days. On this tour through Spain, you'll visit 12 different cities and see some of the best the country has to offer. The trip has plenty of built-in downtime when travelers can check out places on their own. One of the highlights for many taking this trip is the stay in Pamplona, where the annual Running with the Bulls festival takes place.
Other highlights include the holy cave of Covadonga, which is carved into the side of a cliff; exploring the Guggenheim Museum in Bilbao, equally famous for its collection and its building design; and Madrid's Prado Museum, which has the largest collection of European art in the world.
Length: 11 days
Starting price: $2,262
Group size: 40 to 45 people
2. G Adventures Classic Spain
Families with teenagers may find a perfect fit with G Adventures Classic Spain tour. The small group tour has a maximum of 16 people, and everyone must be over 12 years old to join. Over the course of 15 days, the group will travel to nine different cities.
While there are some adult-centered activities like wine tasting in the Rioja region of Logroño, kids will find that the hikes and cooking classes are fun too. One highlight for families is the day trip to San Sebastián, where you can take a tapas tour and sample some of the region's local flavors.
Length: 15 days
Starting price: $3,699
Group size: Maximum of 16 people
3. Globus Spanish Fiesta
For a sweeping trip through Spain, consider the Globus Spanish Fiesta tour. The trip starts and ends in Madrid, which makes booking round-trip flights for this trip easy. During the tour, travelers will see everything from an ancient Roman Aqueduct in Segovia to Bilbao's Guggenheim Museum and the Alhambra complex in Granada.
Foodies will delight in plenty of stops at local restaurants where tapas and wine are served in abundance. In Malaga, you'll stop in at the tapas bar El Pimpi, an 18th-century home turned wine cellar that's now partly owned by actor Antonio Banderas.
Length: 14 days
Starting price: $3,119
Group size: 24 people
4. Tauck Treasures of Spain and Portugal
Travelers looking for a luxurious and relaxing way to see Spain will enjoy the 13-day Treasures of Spain and Portugal from Tauck. At the start of the trip, you'll spend two nights in Barcelona before hopping aboard the Windstar Wind Surf luxury yacht to see even more of Spain with eight days of sailing and stops including Palma de Mallorca, Granada, Malaga, Gibraltar, and Seville (via Cadiz). Then the group will disembark the ship in Lisbon, Portugal, for two nights in this capital city.
In Barcelona, tour visits include the enchanting Parc Güell, the wildly colorful Gaudi-designed UNESCO World Heritage Site where buildings are embedded with ceramic mosaics and colorful glass. Once you set sail on the ship, you can enjoy a mix of enrichment sessions from local experts, spa treatments, and simply relaxing on the yacht's top decks between stops in quaint villages and seaside towns.
Length: 13 days
Starting price: $9,590
Group size: Maximum of 80 guests per sailing
5. National Geographic Expeditions Spain: Walking the Camino de Santiago
Head off on the hike of a lifetime with National Geographic Expeditions Spain: Walking the Camino de Santiago tour. The hike follows Europe's longest pilgrimage tour from Pamplona to Cabo Fisterra on the westernmost tip of Spain. Along the way, travelers stop for wine tastings, see churches bathed in the light of stained glass windows, and wander through a sixth-century monastery.
Daily hikes can be anywhere from seven to 12 miles. Travelers looking to do this tour should be in good shape and enjoy being outside. Along with meals, accommodations, and activities besides hiking, the trip also includes expert insight from a National Geographic Expert and Expedition Leader, along with local guides.
Length: 10 days
Starting price: $7,195
Group size: 20 people
6. Cosmos Sensational Spain
Explore Spain on a closed-loop tour with Cosmos Sensational Spain tour. The trip starts and ends in Madrid, where you can explore the country's capital before meeting up with the group on the first day. As you travel around the country, you can see 9 UNESCO World Heritage Sites; cities including Barcelona, Bilbao, Granada, and Valencia; and countryside including the famous wine region Ribera del Duero.
Before the trip ends you'll visit Seville and have the opportunity to join a Flamenco show and dine on local cuisine. After the last full day back in Madrid, you can continue to explore the city on your own or join in an optional excursion with the group.
Length: 14 days
Starting price: $2,199
Group size: 24 people
7. Adventures by Disney Barcelona Escape
The four-day Adventures by Disney Barcelona Escape is a great option for those looking to add on to another type of group tour or cruise. The family-friendly tours offer families the opportunity to explore the city with two knowledgeable Adventure Guides. After exploring on your own for the first day, you'll have a welcome dinner at a hillside restaurant that overlooks the city. Day two is filled with private tours of the city's most iconic sights including La Sagrada Familia and Parc Güell. The trip ends with a visit to Montserrat and a flamenco dancing dinner show.
Those who are spending a week on the Disney Dream, one of Disney Cruise Line's ships, have the opportunity to add this onto their vacation and be transferred to the port at the end of the trip to start the next leg of their vacation.
Length: 4 days
Starting price: $2,599
Group size: 25-45 people
8. Intrepid Travel Premium Spain in Depth
Those looking for a longer trip will enjoy the Premium Spain in Depth tour from Intrepid Travel. The 20-day trip takes travelers from Madrid to Santiago de Compostela. Along the way, guests sample local cuisine, see spellbinding works of art and architecture, and are led by highly rated local leaders.
On this trip, foodies will love the chance to taste olive oil from a family-run farm and have dinner in San Sebastián with an exclusive gastronomic society. On many days, lunch and dinner are not included in the overall tour price, so you'll have the chance to find local gems on your own. History fans will enjoy being able to see the Alhambra Palace during the day and at night without having to fight the usual crowds.
Length: 20 days
Starting price: $9,142
Group size: Up to 12 people
9. Exodus Travels Cycle the Camino de Santiago
If hiking the Camino de Santiago sounds too long and slow, then biking may be more your speed. With Exodus Travels Cycle the Camino de Santiago Tour, you'll spend six of the eight days pedaling the route with your small group. Along the way, the group will stop at Medieval monasteries, wineries, and other points of interest.
On cycling days, half your time will be on paved roads and the other half you'll spend pedaling along gravel roads and tracks. The cycling days can be long, with anywhere from 28 to 41.6 miles covered each day. All participants on this Spain tour should be in good physical condition and have some cycling experience.
Length: 8 days
Starting price: $2,879
Group size: 6-16 people
10. Abercrombie & Kent Spain: Seven Cities
The Abercrombie & Kent Spain: Seven Cities tour is a fantastic option for those who are looking for a luxury tour. The trip starts in Barcelona and ends in Madrid, with visits to Granada, Ronda, Seville, and more along the way. Each morning starts with an included breakfast. Lunches and some dinners are on your own, which is nice if you're looking forward to choosing your own dining experiences.
Highlights of the trip include strolling through the La Boqueria food market in Barcelona; a visit to Spain's oldest bullring, Plaza de Toros in Ronda; and a tour of Royal Palace of the Alcázar in Seville.
Length: 10 days
Starting price: $6,495
Group size: Up to 24 people
More from TourScoop: