I'm only a few days into a nine-day wildlife and conservation tour of Costa Rica with National Geographic Expeditions, but already the monkeys seem to have gotten the message: When Nat Geo comes to town, it's time to show off. That's really the only way to describe what the White-faced Capuchins are doing as our river boat cruises by on the Rio Frío inside the Caño Negro National Wildlife Refuge. They're dangling from branches, swinging through the treetops, and dipping their toes in the water all around us, sometimes just inches from our boat. 
Over the course of this National Geographic trip, it becomes clear to me that witnessing this sort of animal behavior up close isn't just some happy accident or stroke of good fortune—it's the kind of thing that happens again and again because our expert guides are just that good at locating Costa Rica's diverse wildlife. From rivers and wetlands to cloud forests and volcanoes, National Geographic Expeditions' naturalist guides demonstrate an almost supernatural knack for finding, showcasing, and explaining the incredible diversity of the country's flora and fauna.
WORLD'S BEST: 14 Best Group Travel Companies for Guided Tours
That alone should be enough to recommend the Costa Rica: Wildlife and Conservation guided tour from National Geographic Expeditions, but in some ways it's just the tip of the iceberg. National Geographic trips are all about access, knowledge, and giving back, and all three are on full display during this Costa Rica tour too. Evenings are spent learning from subject matter experts. Day trips to scientific research stations afford an opportunity to discover the important work being done in the field. And there are multiple chances to support local field work with hands-on service projects that help with reforestation, sea turtle rescue, and bird monitoring.
Oh, and as for those monkeys? There are actually several unique species living along the Rio Frío—White-faced Capuchin, Mantled Howler Monkey, and Central American Spider Monkey—and they all make up-close-and-personal appearances before the end of my river boat cruise. It's the Spider Monkeys who steal the show, though, with an impromptu Cirque du Soleil-style performance dangling just above the water as our group waves goodbye. As a lasting image of what it's like to visit Costa Rica with National Geographic Expeditions, it's pretty hard to beat.
Things to Know about National Geographic's Costa Rica Wildlife and Conservation Tour
This year, the Costa Rica Wildlife and Conservation Tour is offered on select dates in September, October, November, and December, with prices starting at $5,695 per person. In 2024, there are scheduled departures in January, March, November, and December, with prices starting at $6,495.
Like all of National Geographic's Signature Land experiences, the Costa Rica Wildlife and Conservation Tour is a high-end and education-focused tour. An Expedition Leader and a National Geographic Expert accompany every activity on this trip, while local guides join along the way for additional expertise.
The Expedition Leader and local guides carry spotting scopes on most walks. The scopes offer enhanced views of the wildlife beyond what you could see with your own eyes. The guides also use laser pointers to reveal the location of various animals you would certainly miss on your own.
Traveling with National Geographic Expeditions helps fund the National Geographic Society's important research efforts around the world. A portion of proceeds from every booking goes directly to the National Geographic Society.
National Geographic Expeditions always books high-end or best available accommodations, and it's no different on the Costa Rica Wildlife and Conservation Tour. The hotels selected all have swimming pools, elegant dining, and remarkable views.
Airport transfers, ground and river transportation, and meals and activities are included in the trip price. All gratuities except for the Expedition Leader are also included. Alcoholic beverages, airfare, and optional travel insurance is not included.
If you wish to arrive earlier or stay longer than the trip dates, National Geographic can also arrange pre- and post-trip accommodations for you at additional cost.
Important Details about National Geographic's Costa Rica Wildlife and Conservation Tour
Tour Highlights
See Costa Rica's incredible biodiversity up close and with the guidance of trained naturalists.
Volunteer and conduct field work with researchers at critical scientific stations in Costa Rica, including the Monteverde Institute and La Selva Biological Station and Reserve.
Learn about Costa Rica's pura vida philosophy through the lens of sustainability and conservation.
Explore Lake Arenal, the waterways of the Tamarindo Wildlife Refuge, and the Caño Negro National Wildlife Refuge by boat.
Cross swinging suspension bridges and spot unique wildlife in the misty cloud forests of Monteverde.
Itinerary Overview
Day One
Arrival day is a low-key affair with group guests arriving throughout the day as schedules allow. A free airport transfer is provided from Juan Santamaria International Airport (SJO) in San José. Since some flights arrive early and others late, the group does not assemble until dinner, when the Expedition Leader greets everyone and delivers opening remarks about the upcoming trip. There's time before or after dinner for a dip in the hotel pool.
Day Two
The first full day takes the group north from San Jose via a luxury air conditioned tour bus to the La Selva Biological Station and Reserve. Here you'll embark on a naturalist-led walk through a forest that's home to hundreds of unique species of birds, mammals, and other wildlife—a sloth and a colorful poison dart frog were among the highlights spotted on my visit—followed by lunch at a local restaurant.
WOMEN'S TRAVEL GROUPS: 9 Travel Companies That Specialize in Women-Only Tours
Following a short post-lunch drive, you'll arrive at your home for the next several days, Arenal Kioro Suites and Spa at the base of the famed Arenal Volcano. Dinner at the hotel is preceded by an informative talk and presentation from one of National Geographic's experts about their fieldwork.
Day Three
Remember all those monkeys I talked about earlier? Day three is when you'll meet them (and countless other species) on a covered riverboat excursion to Caño Negro National Wildlife Refuge, one of the world's most diverse river habitats. Home to everything from spectacled caimans and two-toed sloths to herons, egrets, and the Emerald Basilisk (also called the "Jesus Christ Lizard" because it seems to walk on water), Caño Negro is a true nature lover's paradise.
The river cruise is a full-day experience, at once relaxing and edge-of-your-seat, followed by a luxuriously fresh lunch right along the shoreline. A late afternoon return to the hotel gives you time to relax before dinner, perhaps with a dip in the hotel's pool or hot springs.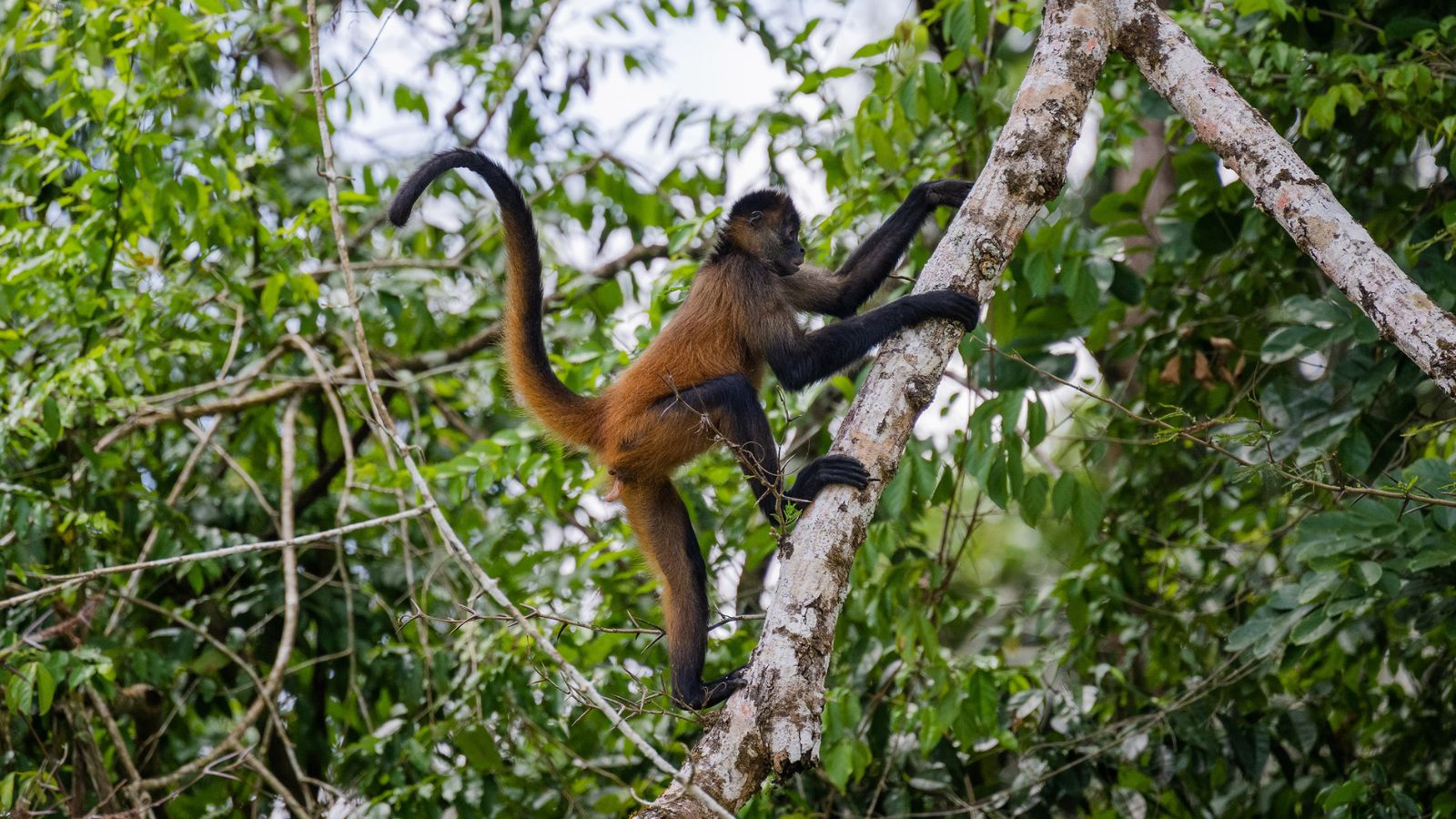 Day Four
You've been traveling in the shadow of Arenal Volcano National Park for a few days now, but on day four you'll finally get up close with a naturalist-led morning hike on the slopes of this active volcano. The payoff is a spectacular view of manmade Lake Arenal followed by lunch and a free afternoon to explore the local shopping area or relax at the hotel. At dinner you'll learn to mix a guaro sour, a delicious Costa Rican cocktail made with a local sugarcane spirit.
Day Five
One of the hallmarks of National Geographic Expeditions' Signature Land Tours is that even the travel days are packed with memorable experiences. That's the case on day five of this Costa Rica Wildlife and Conservation Tour, which starts with an exhilarating private boat ride across Lake Arenal and continues on with a tour of a family-run coffee, cacao, and sugarcane plantation, complete with samples. After a local lunch, the day concludes with your arrival at a new hotel, Fondavela Monteverde Hotel in the cloud forest mountains of Monteverde.
Day Six
A trip with National Geographic Expeditions is both a vacation and an opportunity for education and giving back. Both are on full display during the sixth day of this tour, which involves a specially arranged excursion to the Monteverde Institute, where you'll learn about and participate in the important conservation work being done there. Hands-on volunteer opportunities include bird mist netting and tagging as well as helping with reforestation efforts.
And in the afternoon, another trip highlight: After lunch and a short drive, you'll hike in the cloud forest and cross a series of high suspension bridges, Indiana Jones-style, over yawning chasms and through the shrouded canopy.
Day Seven
Having already explored rivers, lakes, rainforests, volcanos, and cloud forest, the focus now turns to Costa Rica's Pacific Coast and the province of Guanacaste. On a guided visit to Santa Rosa National Park, you'll discover a rare tropical dry forest that reaches all the way to the beach. Then it's off to El Mangroove, a beachfront hotel, to unwind and learn from local experts from Las Baulas National Marine Park with a lecture about sea turtle conservation efforts in the area before dinner and bed.
Day Eight
The last full day of National Geographic Expeditions's Costa Rica Wildlife and Conservation Tour showcases Guanacaste's coastal splendors alongside the importance of ongoing conservation efforts in the region. The first half of the day is spent on a boat exploring the brackish waterways of the Tamarindo Wildlife Refuge, where you'll spot crocodiles, monkeys, iguanas, and many different bird species up close among the crowded mangroves.
In the afternoon, you'll volunteer at Las Baulas National Marine Park. Your volunteer field work here includes an eye-opening beach cleanup project that reveals the role of plastics in the local marine ecology. As the sun sets back at your hotel, the group gathers for a farewell dinner.
Day Nine
Finish your Costa Rica Wildlife and Conservation Tour with breakfast by the beach and a complimentary shuttle transfer to Daniel Oduber Quirós International Airport (LIR) in Guanacaste for your flight home.
Route Notes
National Geographic Expeditions' Costa Rica Wildlife and Conservation Tour surveys numerous geographically unique areas in Costa Rica, so by necessity there are several long travel days on which you spend hours on the tour bus. The bus is comfortable and equipped with both a bathroom and wi-fi.
Long stretches are often broken up with stops at local restaurants or other attractions, so it never feels like you're on the bus for too long. Over the course of nine days you'll also travel by small boat on several occasions.
Activities
National Geographic lists the activity level for its Costa Rica Wildlife and Conservation Tour as "light to moderate." I found it to be on the lighter side of the scale. There's some walking and some short hiking, but for the most part the walks are deliberately slow—better to take in and observe the wildlife—and with multiple guides available, everyone is able to move at their own pace. Guests are encouraged to remain quiet during hikes so as not to disturb the animals.
Hotels
The Costa Rica Wildlife and Conservation Tour from National Geographic visits many different corners of the country, and you'll stay at four different hotels over the course of the nine-day guided tour. As with all National Geographic tours, the accommodations are upscale and best-in-class for the area.
Upon arrival, you'll spend your first night at Costa Rica Marriott Hotel Hacienda Belen, followed by Arenal Kioro Suites and Spa on the slopes Arenal volcano, Fondavela Monteverde Hotel in the cloud forest region, and El Mangroove on the beach in Guanacaste.
Who Should (and Shouldn't) Go on National Geographic's Costa Rica Wildlife and Conservation Tour
National Geographic's Costa Rica Wildlife and Conservation Tour is best suited to curious travelers with a passion for learning and an interest in wildlife photography. While there are a few long travel days, the activities are not psychically rigorous and the pace is suitable for education and exploration. National Geographic's Signature Land tours generally attract an older audience, however the tour company does partner with G Adventures for family tours that can include children and teens.
More from TourScoop: