I recently went on the Road Scholar Signature City Québec tour. This six-day trip was specially designed for women and was relatively small.
It's one of more than twenty Signature City programs in which travelers are immersed in the history, culture, and food of a single city. 
Road Scholar is a not-for-profit organization that has long been known for its in-depth educational travel programs. This tour was information rich and built for curious travelers looking to go deep on a single city.
The six-day Road Scholar Signature City Québec focuses entirely on the city of Quebec. On this Signature City tour, we visited the UNESCO World Heritage city's gorgeous 17th century architecture; saw indigenous and modern art in galleries and museums; heared stories of the dramatic highs and lows of Québec's colorful history; and ate plenty of French Canadian cuisine (including croissants, crepes, and maple everything). 
THE SCOOP: What to Know About Road Scholar Before You Book
This six-day Road Scholar Quebec tour was specially designed for women and was relatively small (17 people), which made our walks around the city more manageable. We ranged in age from our 50s to 80s, and came from all over. However, our bond became evident quickly: we all love to travel.
Things to Know About Road Scholar's Signature City Québec Tour
Road Scholar travelers consider themselves lifelong learners and value studying the history and culture of the countries they visit. Most Road Scholar trips appeal to couples and solo travelers over 50.
The hotel was a historic and comfortable home base in the middle of Old Québec, walking distance to many shops and restaurants.
While there are other women-only groups, this Signature City program was the first one initially offered to a specific Road Scholar Facebook community, Women of Road Scholar.
Besides our leader (Chantal Bellon) and two excellent lecturer/guides (Clarisse Fréchette and Marie Legroulx), there were also guides for specific historic sites.
Each day's talk focused on the area's history, as well as information about the distance of subsequent walks and the terrain. Easy-to-operate audio devices were used for every walk and within museums and historic sites.
TRIED AND TRUE: 15 Best Tour Companies
The activity level for this program was listed in Road Scholar materials as Keep the Pace, described as "walking two miles on uneven surfaces, cobblestones; some hills and stairs." Note: There is another Signature City Québec program listed as On Your Feet, with daily walking totals up to one mile, with some stairs.
Participants were either solo (having their own room or paired with another woman by Road Scholar) or with a friend or relative. We had two sisters on the trip and a Road Scholar staff member traveled with her mom—a first timer.
Payment for Signature City Québec includes the hotel, lectures and field trips, most meals, local transportation, tips, and the Road Scholar Assurance Plan.
Since I did not book my flight through Road Scholar, I also had to pay for an Uber from Jean Le Sage International airport to the Manoir Victoria. Others took taxis covered by Road Scholar.
Tour Highlights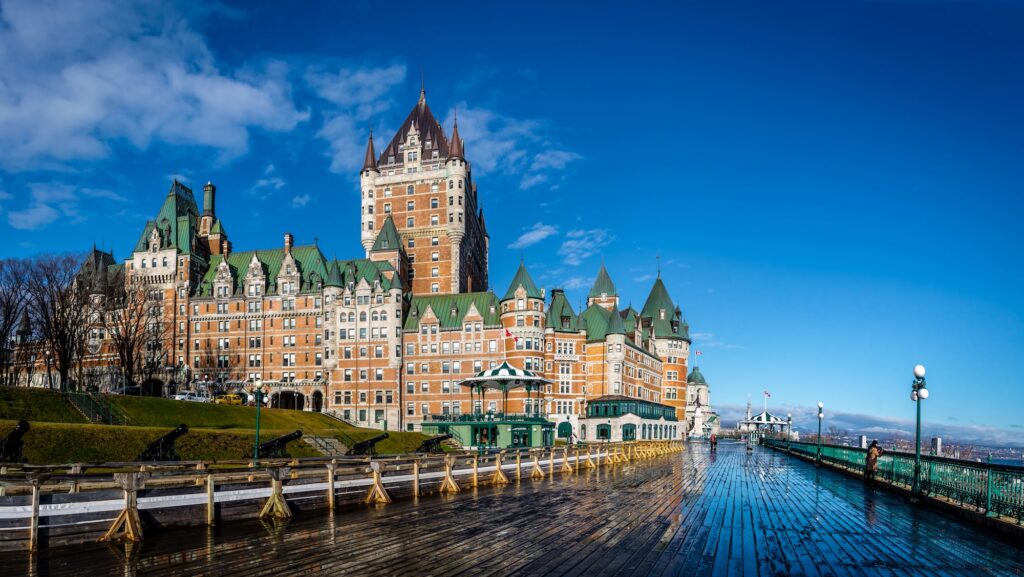 My Personal Favorites
The Fine Arts Museum: The Musée National des Beaux Arts is home to the permanent exhibit "Inuit Art: The Brousseau Collection: Illippunga Collection," which has more than 100 works that reflect the artists' deep feelings for the land, community, animals, and spirits.
SOLO TRAVEL TOGETHER: 10 Best Tour Companies for Solo Travel
Morrin Cultural Center: The English-language library at the Morrin Cultural Center is an important location in novelist Louise Penny's Bury Your Dead (part of the popular Chief Inspector Gamache detective series; in this book he is investigating a body found in the library's basement). The book is on a pre-travel list recommended by Road Scholar and was read by several in our group.
Other highlights included:
Hopping on the Québec Funicular chugging its way between the city's Upper and Lower sections.
Taking a tour of Dufferin Terrace and the archeological site beneath it, the Saint-Louis Forts and Châteaux.
Exploring the imposing Hotel Fairmont Le Château Frontenac (we had our final dinner at Bistro Le Sam there).
Visiting the Musée de la Civilisation (Museum of Civilization), with exhibits about the story of the First Nation peoples through the years.
Touring the Musee des Ursulines (Ursuline Museum), with exhibits tracing the education of settlers and the role of the church in their lives.
Traveling by Road Scholar bus to Montmorency Falls, higher than Niagara Falls and accessible by cable car.
Visiting the Plains of Abraham, the site of a battle that sealed the fate of North America in 1759, when the British army defeated the French.
Seeing the Parliament building and the Monument to the Suffragettes; this group of statues commemorates the work by the women of Québec to win the right to vote, granted by Parliament in 1940. Our visit was particularly appropriate for our all-female trip.
Itinerary of Signature City Québec
Day 1
Folks arrived in Québec by air, train, and car throughout the day. Registration was at the centrally located and well-equipped Hôtel Manoir Victoria, which was our home for the entire trip. Our guide reviewed and updated the schedule and activities for each day.
Day 2
We had breakfast at the hotel buffet every day. Afterwards we moved to a nearby meeting room to have a slide lecture; our first was entitled "Québec: A World Heritage City," an introduction to four centuries of Québécois history. Clarisse, our excellent lecturer and guide, would cover each era in detail on succeeding days.
WOMEN TRAVELING TOGETHER: 9 Tour Companies for Women's-Only Tours
After the lecture we explored Upper Town by foot and visited Notre-Dame de Québec, the seat of the Roman Catholic diocese. After lunch at a local restaurant, we explored the Lower Town and visited the Museum of Civilization led by a museum guide who explained the history and culture of the First Nation peoples.
Day 3
Our morning's illustrated lecture was entitled "Then and Now." We took the funicular to the Lower Town and to charming and historic Place Royale, where Samuel de Champlain founded the city in 1608. In the afternoon we visited the Ursuline museum to learn about the culture and educational mission of the nuns. After lunch we had a bus tour of the Plains of Abraham, the site of a major battle in the Seven Years War. We stopped at the Parliament building and visited the statues that commemorate the establishment of voting rights for the women of Québec.
Day 4
Our daily lecture was entitled "War and Peace," and our lecturer noted that in Québec "history is alive and in your face," one of the best reasons to visit the city. We hopped on a bus to Montmorency Falls, and after ascending by cable car with our costumed guide, we walked on the bridge above the falls. We had free time in the afternoon, and a group of us took a bus tour of the Île d'Orléans and sampled the wares of a nougat maker, an apple cider producer, a vineyard (of course we had wine and cheese), and a chocolatier. For dinner we feasted on crepes at a restaurant recommended by our leader.
Day 5
In the morning we visited the 200-year-old Morrin Cultural Centre. After hearing a local expert talk about the city's oldest jail (and had several in the group try out the solitary confinement cell), we visited the city's first English language institute for higher education and the library.
We toured the archeological site under Dufferin Terrace, where the remains of the Saint-Louis Chateaux were found. A bus picked us up for the Museum of Fine Arts, where we also lunched. Our farewell dinner was at Bistro Le Sam, in the majestic Chateau Frontenac.
Day 6
After breakfast, we dispersed to the airport, train station, and car park. Our tour director arranged for and made sure that all participants had transportation.
Route Notes
Most of our travel was by foot, as per Road Scholar Signature City style. The first day in the rain (a deluge; my poncho made all the difference) was challenging, but we soon became accustomed to the distances and hills. By the end of each day, many of us proudly compared steps on our phones and watches.
Accessibility
The Manoir Victoria hotel is a historic building and has about 20 steps leading from the street to the lobby level. Staff were usually available to carry luggage up and down the steps. There is an elevator, but one must enter through a nearby garage to reach it, and no signs are posted about its location. Other buildings we visited did have steps, but elevators were available in each place.
Dining
Besides the generous daily buffet breakfasts at Manoir Victoria, three lunches and four dinners were provided at restaurants and cafes. There were usually three courses included, but we paid for drinks other than water.
TOURS FOR SENIORS: 8 Best Companies for Senior Tours
The Signature City tour included hearty meals at La Bûche; Bistro Hortus (with farm-to-table food and vegetables grown on the roof); Paillard Bakery; and the Entrecôte St-Jean, a well-known steak restaurant. Friday lunch was at Café Québecor at the Museum of Fine Arts, and our last dinner was at Bistro Le Sam at the Château Frontenac, with upscale surroundings and food. I also purchased coffee and some pretty impressive croissants at the Boulay shop attached to the hotel, and the crepe restaurant many of us frequented during our free time was Le Billig, a 15-minute walk.
Amenities
The Manoir Victoria has a pool on the basement level, as well as exercise equipment and a spa. There are meeting rooms and a computer center off the lobby. Indoor valet parking is located a few doors down from the hotel but is relatively expensive. Our guide directed us to an inexpensive parking lot for the Hotel-Dieu de Québec hospital nearby. Manoir Victoria receives ratings of 8.5 out of 10 on Kayak, 4.5 of five stars on Tripadvisor, and 9.2 out of 10 from the AARP Travel Center.
Best for/Worst for
Road Scholar Signature City Québec is a good fit for adults (and for this particular trip, women) who are fit enough to walk several miles a day and who enjoy the camaraderie of a smaller group.
Signature City Québec may be challenging for those with mobility issues because the trip involves daily walking, sometimes on steep streets with cobblestoned surfaces. According to its website, Road Scholar does not offer this trip during the winter, so streets may be wet but not icy.
More from TourScoop: