River cruising is a great way to see small villages and iconic cities around the world. No matter what river cruise line you choose, or where you're visiting, there are some river cruising essentials you're going to want to pack. These must-have items will ensure that your cabin onboard the river cruise ship stays organized, your electronics stay charged, and you stay feeling great throughout the trip.
What to Pack for Your Next River Cruise
Just thinking about packing for a cruise can seem daunting, so it's important that along with your clothes and bathroom essentials, you think about the other things that are going to make the trip easier. Before you go, pack these 10 essentials to make the most of your time in various destinations and onboard the ship.
1. Laundry Bag or Collapsable Laundry Basket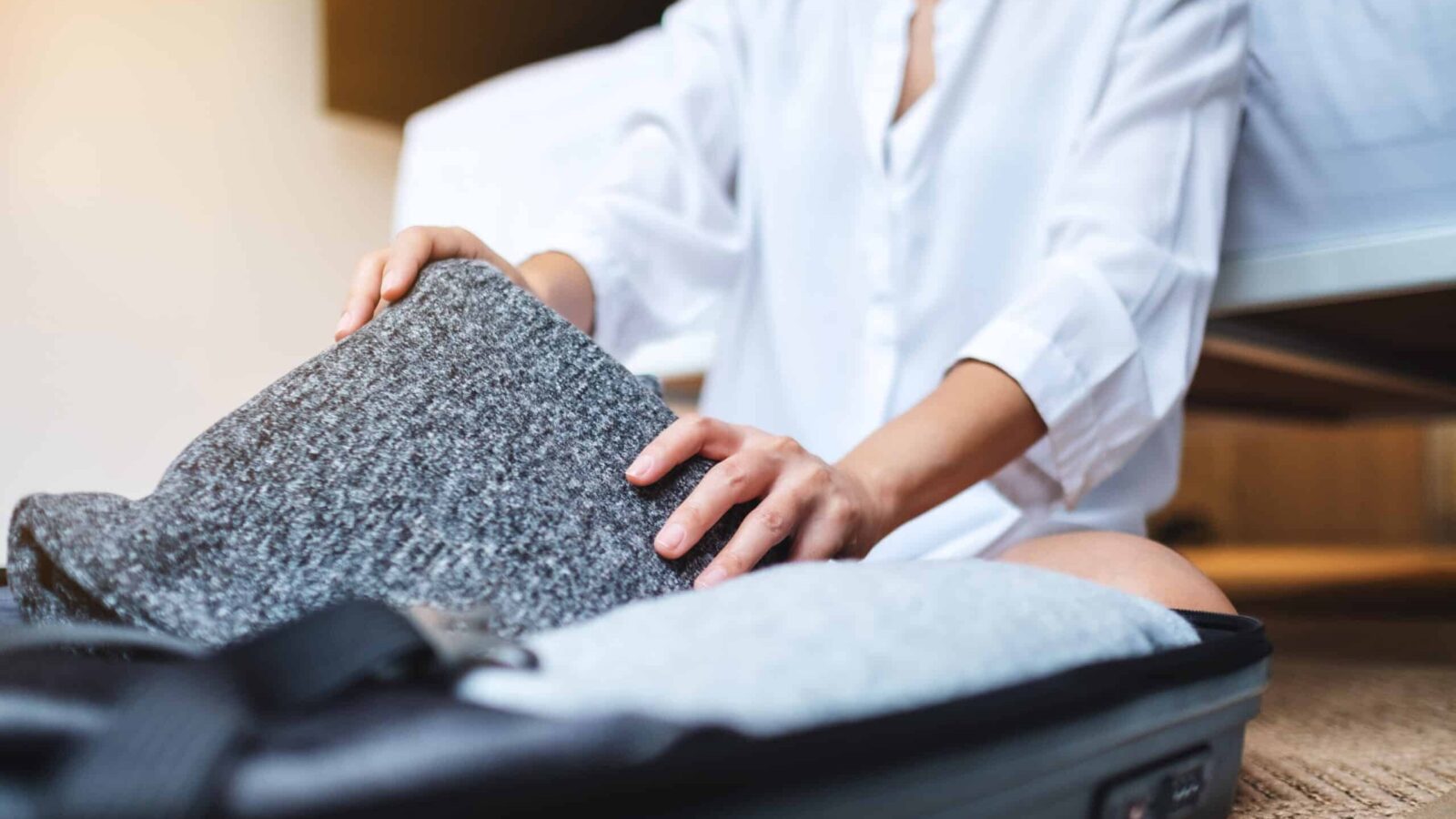 One of the easiest ways to keep your river cruise stateroom tidy is to be able to throw clothes into a laundry bag or hamper. Ideally, the closet in your stateroom will be big enough to stash it out of sight, but there should also be plenty of space to put the bag or basket in a corner of the room.
Look for a simple drawstring bag or a mesh and wire basket that can fold flat and fit into your stowed luggage.
TourScoop recommends: A moisture- and odor-proof laundry bag that folds into a carrying case when not in use is the most space-efficient option. For ease-of-use, collapsable laundry baskets like these options from Walmart and Amazon are great.
2. Multi-Plug Charger
One of the best parts about a river cruise is taking photos of all of the places you're visiting, but with all of the snapshots comes the dreaded drained phone battery. Then there are tablets, watches, and other electronics you'll want to keep juiced up. That's why it's important to bring a multi-plug charger with you on any trip, including river cruises.
Be sure the charger can be plugged into the plugs of the countries you're visiting. The best chargers also have ports for USB chargers and traditional plugs, so there are plenty of options to charge phones, smart watches, portable chargers, and more all from one spot in your cabin.
TourScoop recommends: Brands like One Beat Store, the Besfan Store, the Tessan Store, and Best Buy Essentials, offer well-rated chargers. Retailers like Amazon and Best Buy carry these and other options if you're looking for a specific size or color.
3. Rain Jacket with a Bag
No matter the season or destination, a bit of rain is likely a possibility on your trip. A rain jacket that has a storage bag is a great addition to your backpack before getting off the river cruise ship for a day of exploration.
You'll want to find a rain jacket that has a large hood to cover your hair and potentially a bike helmet if you're choosing to ride a bike around the city. The jacket should be able to easily fit into the bag that it comes with without much hassle. If needed, the rain jacket can also double as a windbreaker on cooler mornings or evenings.
TourScoop recommends: We like the rain jackets made by Avoogue, Hount, JTANIB, and Champion for their abundance of colors and styles. A larger variety of rain jackets with an included storage bag can also be found at retailers like Walmart, REI, and Amazon.
4. Reusable Water Bottle
While some river cruises offer reusable water bottles for guests to use, others don't, so it's best to bring a reusable water bottle with you. We like insulated steel bottles that can keep water cold all day long, especially on river cruises through the United States where the temperatures can be very warm and humid.
You'll want to find a steel reusable water bottle that has double or triple insulation. The options with sport lids or integrated straws are useful if you want easy access to water while biking or taking walking tours, though remember that you'll need to keep the bottle upright to prevent leakage.
TourScoop recommends: Reusable water bottles made by Corkcicle, Hydro Flask, Iron Flask, and Thermoflask are all highly rated for keeping hot drinks hot and cold drinks cold for extended periods of time. Depending on the style and color you want for a water bottle, great options can be found at Amazon, Walmart, and Rifle Paper Co.
5. Reusable Snack Bags
When you bring your own snacks, you'll never find yourself on a long bus ride without snacks. While you could throw a few granola bars in your day bag, finding them all crunched up at the bottom of your bag when you're ready to eat them isn't ideal. To keep whatever snacks you're bringing with you for tours in one spot, and protect them from getting crushed, use reusable snack bags.
The best reusable snack bags are made from either silicone or washable fabric. The bags should either close easily like a traditional zip-top bag or have a zipper at the top.
TourScoop recommends: Some of the best reusable snack bags can be purchased from brands like Stasher, Zip Top, and Bumkins. Whether you're looking for small bags that can hold just a few things, or larger bags that have room for snacks for everyone in your group, reusable snack bags can be found at retailers like Amazon, Walmart, and Target.
6. Travel Notebook
A lasting and special way to remember your travel adventures on a river cruise is with a travel notebook. Some travel notebooks sometimes have prompts where you can write about your day, while others have blank pages where you can jot down memories or sketch a scene while sitting at a street-side cafe.
Look for a travel notebook that's hard-sided and has at least 100 pages so you won't likely run out of room on one trip. Be sure the pages of the notebook are heavy so ink from a pen doesn't bleed through to the opposite side of the page, too.
TourScoop recommends: Travel notebooks from Duncan & Stone Paper Co, Amazon Basics, and Moleskine all earn high praise from reviewers. Additional options for travel notebooks can be found at Amazon, Papier, Erin Condren, and Minted.
7. Clam-Shell Jewelry Case
For those who travel with a bit of bling, a clam-shell jewelry case is a great option to keep earrings, rings, necklaces, and bracelets safe and organized. The clam-shell design allows the case to be zipped up so if the case falls off of a counter you're not scrambling to find small earrings or backings.
Look for a jewelry organizer that has at least two large compartments that are divided by a mirror flap. The case should have small dividers for earrings, foam cylinders for rings, and small felt hooks for necklaces and bracelets.
TourScoop recommends: We like the jewelry cases from Benevolence LA Store, ProCase Store, Leture, Zoe Sunny, and Hatori. The best place to find the most variety of colors and styles for clam-shell style jewelry cases is on Amazon.
8. Collapsable Hangers
When it's time to unpack your suitcase on a river cruise, you don't want to discover that the closet in your stateroom only has a few hangers. To keep your unpacking as efficient as possible (and to make sure you have enough hangers at any hotels you stay at before or after your river cruise), consider bringing your own collapsable hangers.
The hangers come in large sets and can be used for everything from shirts and swimsuits to pants and jackets. The compact design means they won't take up a lot of space in your suitcase, and the lightweight design won't weigh everything down.
TourScoop recommends: There aren't many of these types of hangers on the market yet, so try looking at the options from the Trubetter Store, Youowo Store, Generic, and the Cyanlux Store first. All of these options can be found on Amazon.
9. E-Reader
Unlike larger ocean liner cruises, river cruises don't have an abundance of entertainment while cruising from port to port, after dinner, or between tours. To keep yourself occupied while sailing, consider bringing an e-reader. It's essential that you pre-download your books before traveling, though, because the WiFi onboard most river cruises isn't great.
Look for an e-reader that feels light in your hands and is backlit or has a paper-white setting. For a bit of added security, be sure to get a cover for your e-reader before you leave too.
TourScoop recommends: We like the Kindle Paperwhite, NOOK GlowLight 4e, Kobolibra 2, and BOOX 7" Leaf 2 E-Reader the most. Each of the options offers a great reading experience and doesn't feel too heavy in your hands. The only thing you will need to think about is which one of the e-readers is in your budget. The e-readers can be purchased from Amazon, Barnes & Noble, Best Buy, and KoboBooks.
10. Fanny Pack/Belt Bag or Crossbody Bag
Belt bags are back, fashion-wise, and carrying a small belt bag/fanny pack or crossbody bag is an easy way to ensure that all of your valuables like money and phones stay safe because they are at your front and close to your body. Fanny packs or cross-body bags are also a nice option for river cruising since there may be long days of walking or biking where you don't want to have to lug around a heavy backpack.
While searching for a bag, look for one that has an adjustable strap so you can wear the bag around your waist or around your chest. Look for heavy-duty zippers that aren't going to break after a few uses, and try to find a bag that has multiple compartments.
TourScoop recommends: Some of the top-rated fanny packs and crossbody bags are from INICAT, UTO, ZORFIN, and Sportsnew. Additional options with varying sizes, colors, and pocket designs can be found at Amazon, Target, Walmart, and Lululemon.
More from TourScoop: